Are you looking to finally get your first ever reborn doll but don't know how or where to begin? Don't worry, we've laid out the perfect tips for you so you can finally get one of your own! After you've read these tips, you can read our buyer's guide to learn how to order on kissreborn.com.
Let's start now:
Choose the gender
Unlike from a regular pregnancy (which you would not be able to choose the gender of your baby)
Having a reborn baby is quite different since you could actually choose according to your preference.
Is it a boy?
Is it a girl?
At the end of the day, that's going to be your choice.
Take note that the gender you're going to choose would significantly affect how dressing your reborn baby would go. So, you need to choose wisely and pick what your heart desires!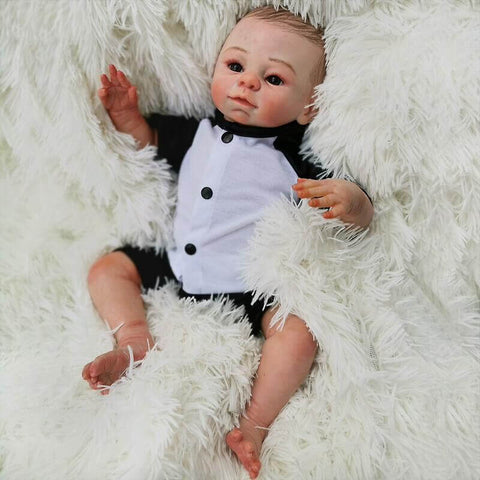 Although some reborn dolls can resemble both genders at one time.
Study the price you need to pay.
Like what we mentioned earlier, buying reborn dolls can cost you a hundred bucks. Most especially since they are intricately made by reborners for up to 50 hours just for one single doll!
But if you're really on a budget, you can visit websites to find a reborn doll that will fit your pocket.
Through these online sites, you get to be connected to reborners who could do your reborn doll for the price that you could negotiate on.
Decide if you want your reborn doll to have hair
Although this may sound like a minor detail, you need to decide if you want your reborn doll to have hair or none.
But, why does this sound like a very crucial decision?
This is for the reason that reborn dolls with hair will usually need more time for maintenance since you need to brush them to avoid tangles.
Unlike for reborn dolls without hair, which would be easier to clean.
Decide your reborn doll's entire appearance
Note that when planning to get your own reborn doll, you must also consider the appearance, which can include their posture or even their life like actions of crying or cooing. Or maybe you will like monster reborn dolls, Alien reborn dolls. Some dolls can even sit and lay with no support!
Your reborn doll also includes their eye color and even skin tone you prefer, as well as the facial expression you want them to portray.
You can choose a crying baby, a smiling baby, or any other you prefer!
Choose your reborn doll's body
You can also choose your reborn doll's body. This is where the type of material comes in.
As mentioned earlier, these dolls use the soft kind of vinyl called the ""Gentle Touch or Real Touch"" which has a very velvety effect close to a real baby's skin. Also, it is very easy to clean it is quite durable.
Also, take note of your doll's weight since you might want to reconsider getting one below two pounds so your child can easily carry it.
The body size of your doll is also important since these can start from preemie, smaller or regular sizes, which can be 11 inches (27.94 cm) up to 22 inches (0.56 m).
Just like it's weight, you must choose wisely for its height since if the reborn doll is for a child, then it would be easier to carry a smaller version of the doll.
Preferably, get waterproof reborn dolls
If your reborn doll is for a kid, you can choose a waterproof version so that they may be able to take the doll with them when they take a bath.
Take note of your reborn doll's clothing
Your reborn dolls are just like real babies, they need clothing too.
Take note that besides the outfit you want your doll to wear, the size of your doll will affect the size of its clothing. Sometimes, you get the dress for free when you buy a reborn doll, but sometimes you need to buy it separately, which can be slightly pricey.
Choose your doll's artist
You can also choose the doll's artist or the reborners you want to craft your reborn doll for you.
Different artists usually use different techniques to produce a seamless and realistic reborn doll to make it stand out from the rest.
You can also try to visit the website of the International Reborn Doll Artists Association, which is the world's biggest group of reborners to take the artist of your pick.
Find the right place to buy reborn dolls
Since the popularity of reborn dolls is still rising, there is not much available in physical stores or in market places.
You can check in online markets such as eBay or check reborn doll forums and blogs. People might just help you find the right place to get your own reborn doll.
Now, go ahead and get your own reborn doll today!